If you are looking for spacious modern single level tiny houses, we are your number one choice in New Zealand.
We specialise in single level tiny houses on trailers. Our standard (and maximum) size for a tiny house is 10.8m x 3m and 2.7m high (at highest point). We can build smaller tiny houses with higher/lower ceilings but our largest tiny house size is the most popular one and therefor our standard size. You'll be surprised how large our tiny houses are!
We use a warranted and registered triple axel trailers and our houses are fully detachable from the trailer.
Single Level Tiny House on Wheels
10.8 x 3m size on a warranted and registered trailer
Steel Frame
Colorsteel® corrugated iron roof
Vinyl and Cedar Cladding or Corrugated Iron and Cedar Cladding
Double glazed windows and ranch sliders
Vinyl or Carpet flooring
Fully Insulated
… for more details read down below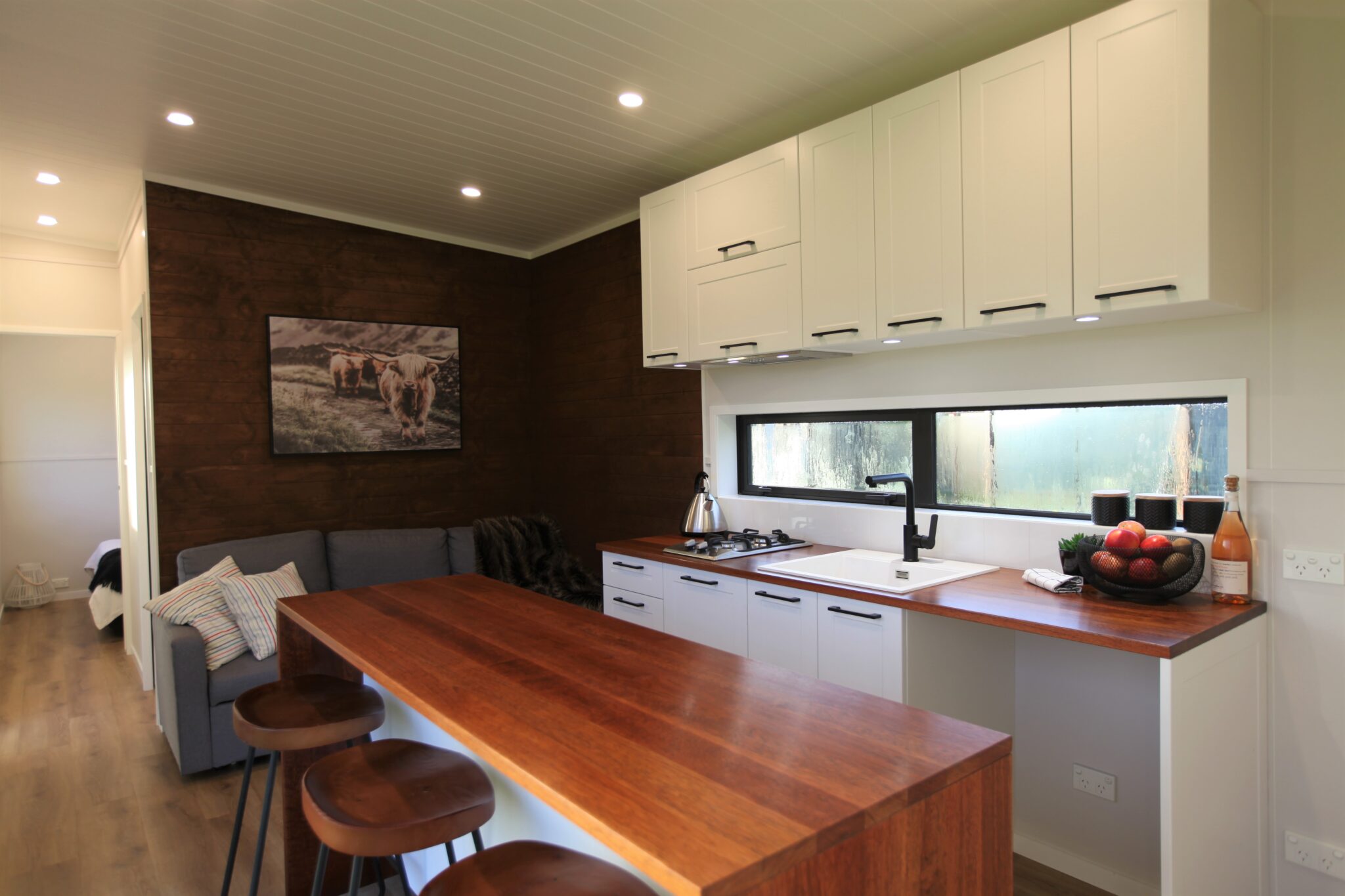 designed for you
Premium Materials
If you've done a little research on tiny house frames already, you've probably come across the two main options for framing: Timber framing and steel framing. We at Absolute Tiny Houses use steel frames because they are lighter  and straighter than timber. We think it's simply a genius way to build a tiny house frame.
After being on the market for a couple of years now and doing extensive research on which materials are most suited for Tiny houses we are certain that we are using the best materials that are on the New Zealand market for our tiny house builds.
For the exterior we like to play around with cladding and usually use a mix of vinyl cladding or corrugated iron and cedar panels to make your tiny house look unique!
Honestly, we wouldn't be able to sleep at night, if we used low quality materials. As for flooring we usually use vinyl and/or carpet. We believe vinyl flooring is a great option because you can pick your preferred look, it's very cost efficient and durable.
View our Tiny House designs and floor plans